Florida Nursing Home Planning
At Deeb Elder Law, we focus on helping our clients plan in advance for illness, disability or incapacity. We help senior citizens look ahead as they approach retirement and beyond to minimize legal problems, preserve assets and maintain their dignity as they age.
The Long Term Care Dilemma
We help our clients focus on two important questions:
If you become disabled and need long term nursing home or assisted living care, how will you pay for it?
Do you have a well-rounded estate plan designed to meet your long term care needs as you age?
Long Term Nursing Home Care in Florida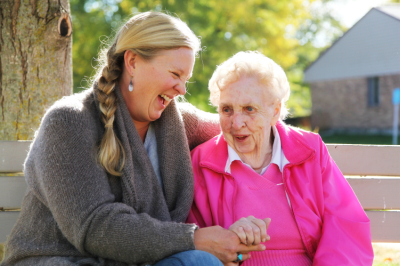 Approximately 40% of all persons over 65 will spend some time in a nursing home. As of 2020, the median annual cost of a semi-private room in a Florida nursing home is $103,843. The Assisted Living Facilities median cost is approximately $48,000 annually in Florida.(1)
Private health insurance does not cover nursing home care, and Medicare is limited to 20 days coverage following a hospital admission resulting in at least a three day stay. In certain circumstances, an additional 80 days may be partially covered.
Few people have Long Term Care Insurance, but even those who do find that it rarely pays the entire bill. In reality, nursing home expenses are paid for out of pocket, unless the individual who requires the care qualifies for long term assistance through the Medicaid program.
Without sound Medicaid Planning, there are not many who can afford to pay such an expense with personal funds. Sometimes our clients come to us in need of crisis planning, such as when an elderly loved one is in need of immediate placement in a nursing home for extended care.Whether you are planning for the future or need immediate assistance, we can help.
An attorney from Deeb Elder Law can offer you advice and assistance in becoming eligible for Medicaid benefits for nursing home care without spending all of your assets first. Even before a person may need nursing home care, we can advise you on how to best plan for that possibility.
Plan Now for Long Term / Nursing Home Care
Advance planning allows you to greatly lessen legal fees, avoid emotional confusion for loved ones and protect the assets you worked a lifetime to gain. Planning ahead also allows you, rather than the Florida court system, to decide in advance what medical care you will or will not receive.
A well drafted estate plan establishes and plans in advance your wishes regarding:
Asset protection (Will and Trusts)
End-of-life decisions (Living Will)
Who you will appoint to act on your behalf regarding financial decisions if you cannot make those decisions (Power of Attorney)
Who you will designate to authorize medical treatment and make medical decisions if you cannot (Heath Care Advance Directives)
Provisions for Medicaid eligibility (Medicaid Planning)
Besides protecting your money and assets, planning ahead for long term care inherently avoids the need for court intervention to obtain a Guardianship, in which such court proceedings can be time consuming, very expensive and stressful.
Please call (727) 381-9800 or use our contact form to reach us. Our attorneys will listen carefully to your questions and needs, and work with you to achieve Long Term Care Planning that is right for your situation.
We also understand that decisions often need to be made in crisis situations due to a medical emergency or financial hardship. Deeb Elder Law has the experience, compassion and insight needed to handle urgent legal needs.